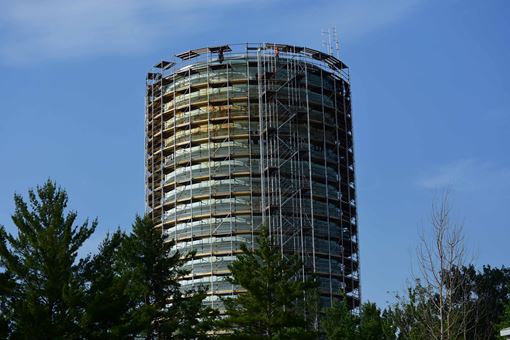 Contractor:          Jacques Daoust Coatings Management Inc.
Award
Amount:               $2,325,615.00 (HST not included)
Project
Description:         This project upgrades the interior and exterior of the steel standpipe coating system and repairs any structural wearing the standpipe endured since 1982. The project will also upgrade the existing electrical and telecommunications equipment.
Project
Need:                    The Birch's Road standpipe is a 38.5m high welded-steel standpipe constructed in 1982 with a capacity of 9000 cubic meters. The standpipe supplies municipal water to Zone 1A (West Ferris Area) for the City of North Bay. The interior and exterior of the steel standpipe has a protective coating system. The standpipe is experiencing coating de-lamination, mud-cracking, lichen growth, peeling, and corrosion. The existing coating system is no longer properly protecting the steel and will continue to further deteriorate if it is not replaced. The existing interior and exterior coating system is past its useful life and is recommended for replacement. The new coating system has a life expectancy of 20 to 25 years.
Work
Schedule:              Contractor mobilized on site June 2019. All equipment installation and recoating to be completed by end of October 2019. Total project completion by December of 2019.
Traffic
Delays:                  There is no expected detouring of traffic for this project.
Project
Completion:         120 Working Days which is approximately 5 months.